Description
Activation
The SoundClip-16 is from our range of compact, stand-alone, high quality stereo audio players. It can be used to present audio through headphones via two 3.5mm audio jacks or 2 speakers via wired terminal. It can play in 16 Button activation, looping or PIR activation mode and supports up to 99 tracks.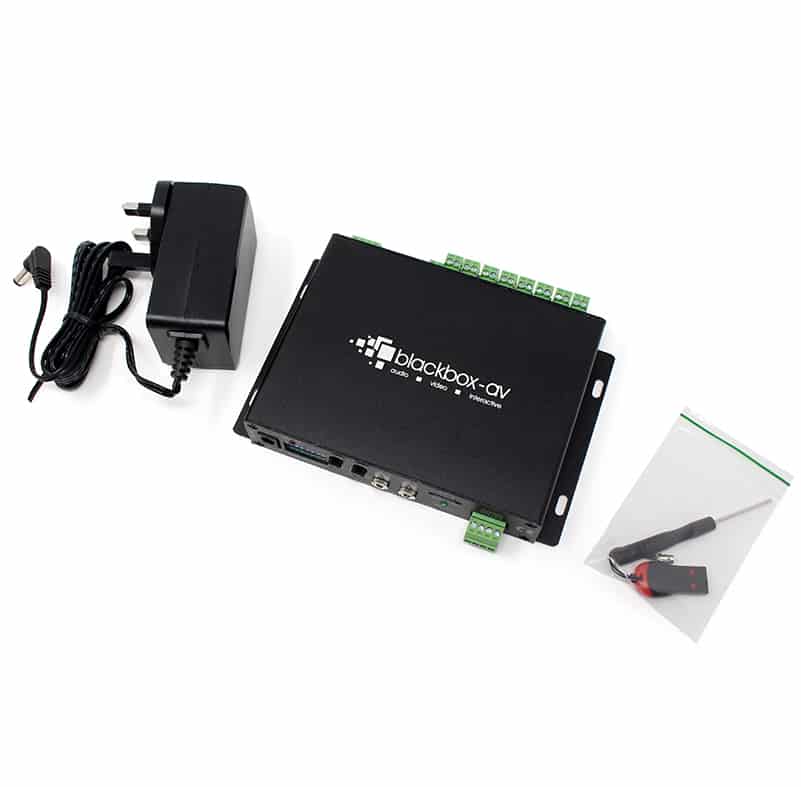 Key Features
Inbuilt 3w dual channel Amp
Supports 16 button inputs (not including volume controls)
Easy to programme via MicroSD card and dip switches
PIR compatible
Piezo one piece button compatible
Button activated or Looping
Dedicated volume button input
Delay timer between content activation
Play Modes
.mp3 or .wav files are stored on a MicroSD card (included) which is then inserted into the SC-16.
The SC-16 can be programmed to play up to 99 files in a number of ways;
Looping play all
Play all once, upon button or PIR activation
Next / Previous mode via 2 buttons
1 file activated on each buttons (16 files)
The SC-16 can be activated via buttons or PIR (not included) and can be set to interruptible or non-interruptible mode (once a message begins playing it can or cannot be interrupted via another activation). There is also a single light output that's activated (on) when a track plays, and deactivated (off) when no tracks are playing as standard.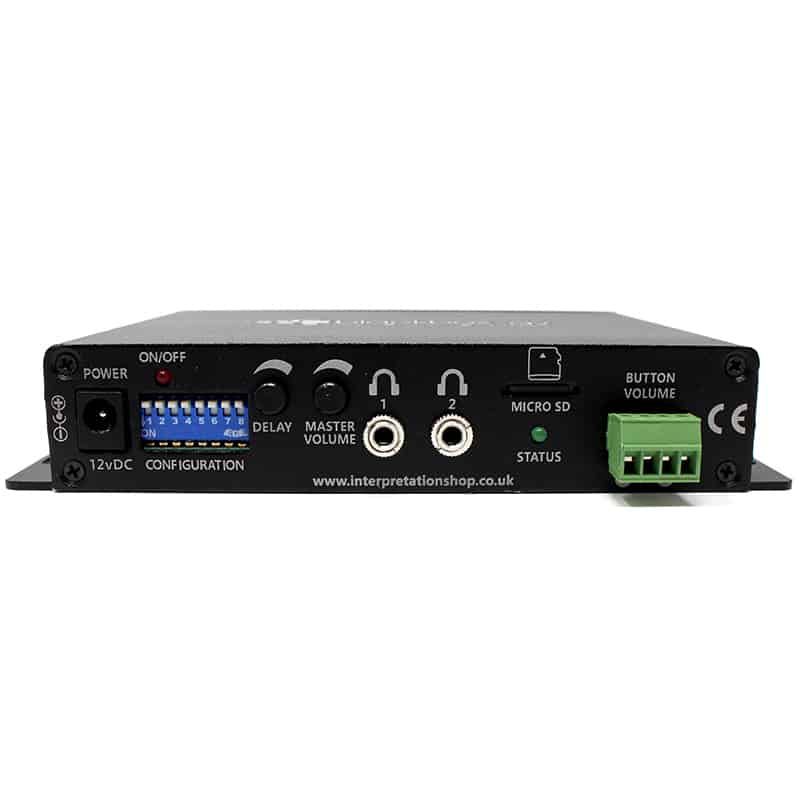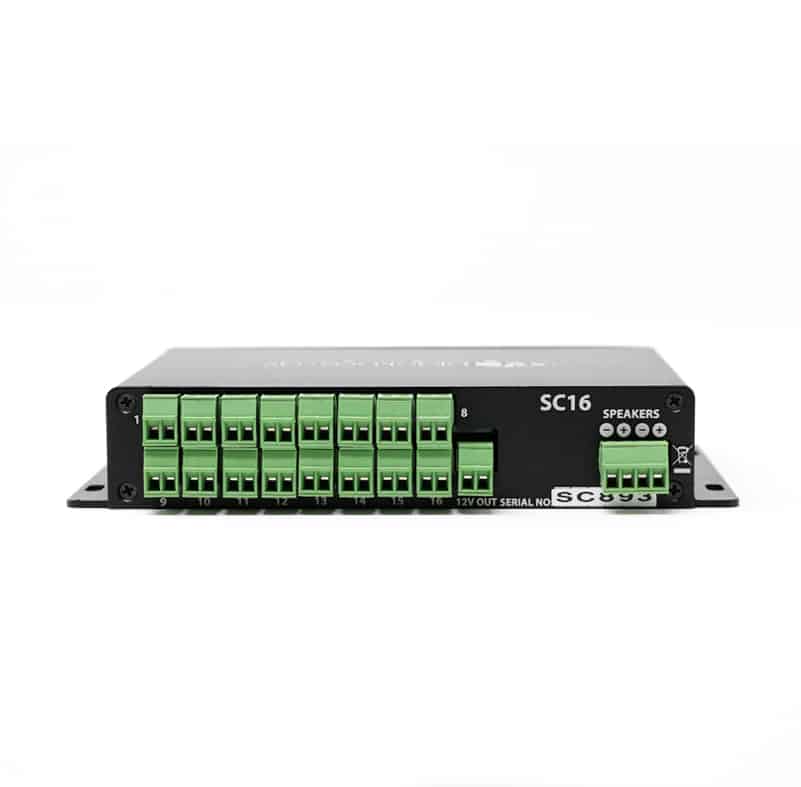 Output Options
Up to two handsets / headsets
Up to two speakers
Lighting – as standard lights will activate when content plays, and deactivate when content stops
Fitting Options
The device is incredibly easy to install due to its compact size and low weight. The efficient nature of the SC-16's design and its two fixing wings means it can be installed securely into any suitable space.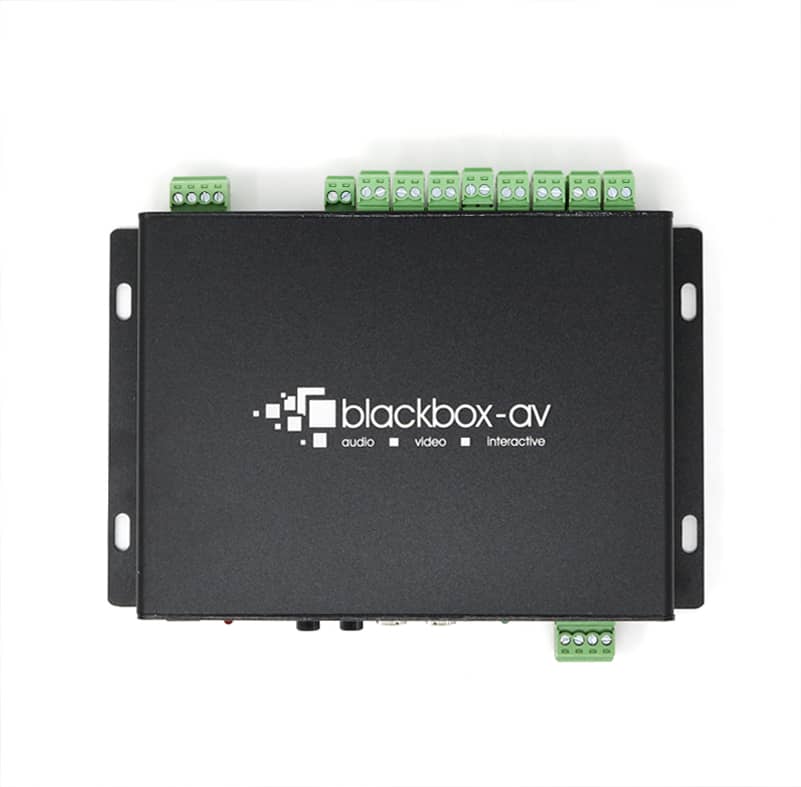 Battery Audio Player
Battery Audio Player
.mp3 / .wav

Up to 99 files

Looping / 1 message per button / Next – Prev

2x Button Inputs

2x (Stereo) Speaker Terminals

2x 3.5mm Jacks

1x Lighting Output

Mains Powered

PIR Compatible

Dedicated Volume Inputs
.mp3/.wav

Up to 99 Files

Looping / 1 message per button / Next – Prev

8x Button Inputs

2x (Stereo) Speaker Terminals

2x 3.5mm Jacks

1x Lighting Output

Mains Powered

PIR Compatible

Dedicated Volume Inputs
.mp3/.wav

Up to 99 Files

Looping / 1 message per button / Next – Prev

16x Button Inputs

2x (Stereo) Speaker Terminals

2x 3.5mm Jacks

1x Lighting Output

Mains powered

PIR Compatible

Dedicated Volume Inputs
.mp3/.wav

Up to 99 files

Looping / 1 message per button / Next – Prev

8x Button Inputs

2x (Stereo) Speaker Terminals

2x 3.5mm Jacks

8x Lighting Output

Mains Powered

PIR Compatible

Dedicated Volume Inputs