Description
Mediascreen Schedule
The versatile MediaScreen Schedule is a simple to use slimline display that incorporates a HD media player with 'plug n play' content update ability. This means you simply create your visual presentation on a PC, put it on a USB stick then upload it to the display via the integrated USB port. The Mediascreen Schedule boasts a commerical quality IPS screen with 178 degree viewing angle, is brighter than the average domestic screen and is rated for 24/7 usage. All with a 3 year warranty.
---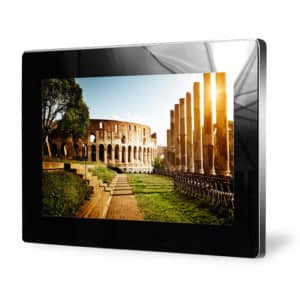 Schedule and Organise Playlists/Videos
The MediaScreen Schedule comes with simple, free scheduling software which allows you to set up playlists with images, videos and music to play at different periods during the day. Or to merely schedule a looping presentation to begin in the morning and end in the evening for example.
The MediaScreen Schedule is also supplied with a Vesa wall mount and 3 year warranty.
---
Presents Visual Content
Thanks to its ease of use, the MediaScreen Schedule is ideal for presenting visual content in a variety of settings that do not require interactivity, from informative videos to the display of menus and prices.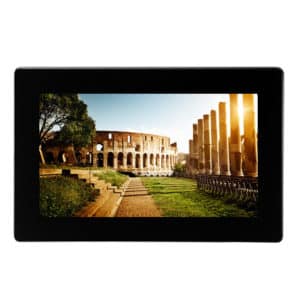 ---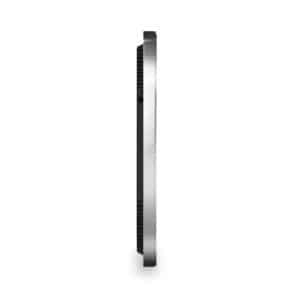 Stylish and Bright
With metal casing, sleek elegant tempered glass styling, the ability to be in constant use and a wide viewing angle the MediaScreen offers many advantages over using standard TVs for commercial display. As well as these benefits the MediaScreen Schedule is also generally brighter than home TVs and has no buttons or controls on show.
The abundance of inputs allows for a wide range of applications. For example both the HDMI and VGA inputs can be used to connect the display to a PC.
---
Options
19|22|32|43|50|55″
With 3.5mm Line Out (will need an additional headphone amplifier to connect headphones)
Without 3.5mm Line Out
Click here to view the specifications comparison sheet for all sizes