Description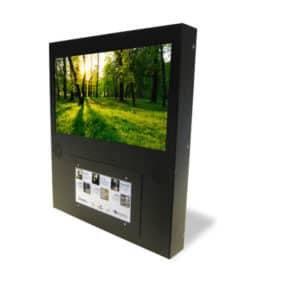 12 User Activated Videos
VideoFrame 12 kiosk is our easy-to-use wall mounted media play back system. Capable of holding up to 12 videos and/or photographs and audio tracks, VideoFrame 12 is blackbox-av's innovative way of allowing users to engage with content easily, giving them the opportunity to select from a considerable array of media through the simple press of a button. The front "artwork" is interchangeable, allowing you to swap out the design to suit your content. VideoFrame 12 also has a standby video/slideshow function allowing the creation of an attractor screen.
---
HD
The VideoFrame12 Kiosk comes with a high quality 22″ screen giving you the perfect canvas with which to display your visual content. It is also available in two colours, black and silver.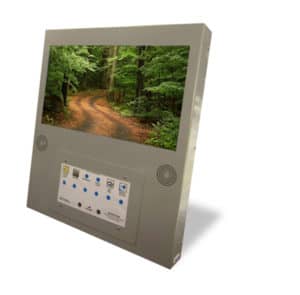 ---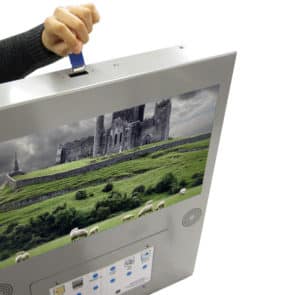 Easy Updatable
Video content is stored as MPEG 1 (optimal, can play other formats) on an SD card, 4GB maximum, inserted into the top and secured under a screwed down plate. Media files are simply dropped onto the card and left to run without the need for further setup, resulting in a very quick install and next to no maintenance. It also means that updating the content is simple making VideoFrame12 perfect for temporary exhibitions as well as visitor centres and permanent displays.
---
Fitting Options
The VideoFrame 12 Kiosk can be either fitted using a standard vesa mount bracket (not included) or fixed directly to a wall.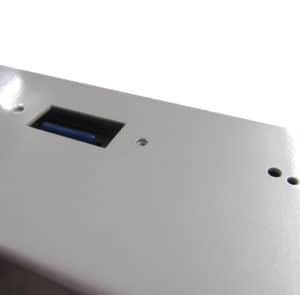 ---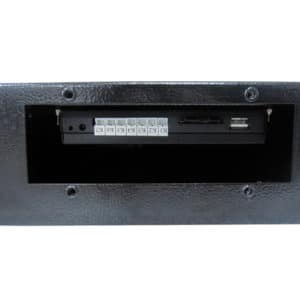 Button Artwork
You will find the template for the button artwork in the downloads section. We recommend printing on 120GSM paper and laminating in 150MIC. Please refer to the manual for instructions on how to secure your button artwork (also in downloads section).
---
Content Creation
We offer a service should you wish to have visual or audio content created, edited or copied for your VideoFrame 12 kiosk. We can also create the button artwork for an additional fee. Contact us for further details about either product or content at sales@blackboxav.co.uk or on 44 (0)1639 874 100.
If you have media already we can pre-load content to your VideoFrame 12 before shipping should you choose, however this service incurs a fee which varies depending upon the job at hand so you will need to contact us, as above, to discuss your project and determine the cost.
Bespoke
If you're interested in using the VideoFrame 12 platform in a bespoke project, contact us at sales@blackboxav.co.uk or on 44 (0)1639 874 100, to discuss your requirements.