Description
PIR Activated Audio
Message in a Speaker is our unique, space and cable saving audio playback device which is normally triggered by movement but does have a continuous play mode. Able to hold up to 99 tracks, the device offers continuous, sequential or sequential activation over a background track. Constructed using a 'JBL' speaker, you can be sure of the high quality audio the MIAS provides. It is the original of our MIAS range and offers the highest quality audio.
---
Play Modes
Continuous – All files play on a continuous loop without PIR trigger
Once – When triggered all files play once then await another trigger
Sequential – One file is played when triggererd, next trigger will activate the next file
Background – One track plays on loop as background audio, when triggered the other tracks play sequentially
---
MP3 Audio
A PIR (Passive Infrared) movement sensor is mounted behind the grille of the speaker which, when activated, triggers the playback of mp3 audio tracks stored on a MicroSD card held in the back of the case. The Speaker comes with a time delay option which can be altered as required to prevent repetition and clear distinction between different messages. Volume can be adjusted via the control provided on the rear panel whilst the playmode of the MIAS is determined via an easily programmed .txt file located on the MicroSD card.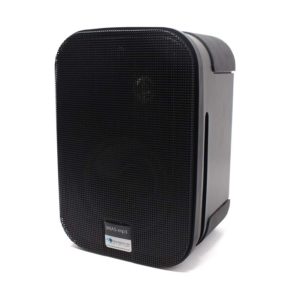 ---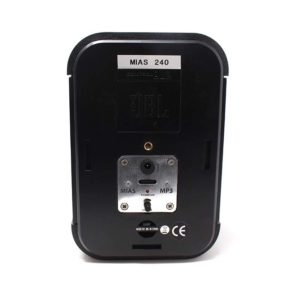 Comes with Wall Bracket
The Message in a Speaker is supplied with a wall/ceiling bracket and security cable, though it can also be left free standing.
For further information see the MIAS Manual.