Description
Donation Activated Audio
Whenever a visitor puts a donation through the donation slot, be it coin or note, a message is delivered to the visitor via the built in, solid state playback unit. We feel that more attention can be drawn to donation boxes through the addition of sound, as well as an instant sense of reward and appreciation for a visitor's contribution.
---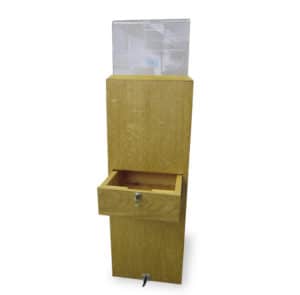 Donations Detected by Sensors
Behind the donation slot are sensors which detect when a donation has been made and will then play a message in response. As standard the solid state playback unit plays a single message (please contact us for bespoke options).
---
Built-In Security System
A built-in security system has been included which will activate if the unit is moved by an unauthorized person and a special backup battery ensures that the alarm remains active even when the donation box has been removed from mains power, deterring anyone who wishes to make away with donations.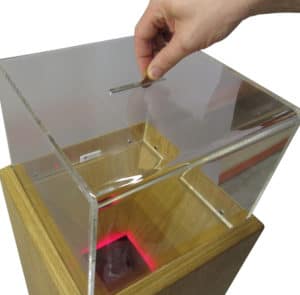 ---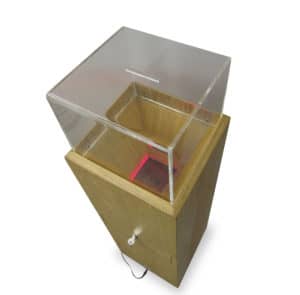 Fitting Options
If you already have a donation box installed, we may be able to provide you with the equipment and instructions to fit it yourself. Alternatively, we would be more than happy to design a customised donation box to your specifications ready for immediate use upon delivery.
---
Uploading the Audio Content
The Audio Donation box comes with our content upload package as standard, email your audio content to sales@blackboxav.co.uk after ordering your Donation Box, please remember to include your account name and order number! For any enquiries contact us on 44 (0)1639 874 100