Description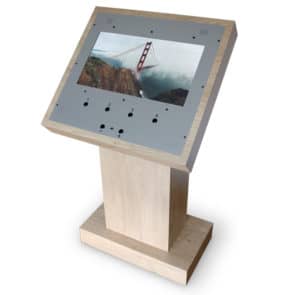 Freestanding Video Playback Unit
The 22″ Free-standing AV Point is an easy-to-use interactive freestanding unit designed to present Video or Audio (with the option of accompanying imagery). It features a 22″ HD screen, solid state media player, built in speakers and multiple activation buttons, all within an elegant oak housing allowing you to deliver HD content to your visitors on request.
---
Visitor Selection
The 22″ Freestanding AV Point could not be simpler to use. When inactive the screen displays an attracter screen which is either a still image/slideshow or a lopping video,  visitors are then able to select a video on demand by pressing one of up to 4 buttons. The attracter screen is utilised to present a playlist to visitors, showing what can be activated via each button.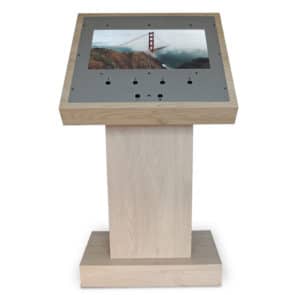 ---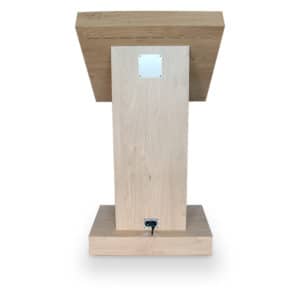 Adjustable Volume
The number of buttons that are required can be changed and its possible to give your visitor the ability to alter the volume with +/- buttons if needed. Headphones or handsets can be used with the product to control the audio bleed (contact for prices/details).
Content is stored on a USB which is located behind the rear lockable compartment.
---
Fitting Options
The Kiosk is supplied with low profile plastic feet, however contact us if you would like lockable wheels on the bottom of the unit for easy relocation.
Bespoke Options
If you would like to discuss any bespoke options for the 22″ Free-standing Video Kiosk, you can contact us on 44 (0)1639 874 100, or email us at sales@blackboxav.co.uk to discuss your requirements.